39 Years of Living History
Espãnol Nederlands Français Svenska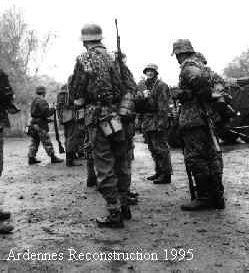 Formed in 1978 the Second Battle Group is the UKs longest serving Second World War Living History and Historical Society. The SBG portrays Grenadiers of the 1.SS.Panzer Division Leibstandarte SS Adolf Hitler. This division was chosen because not only was it Germany's elite fighting formation but it also fought on every major front in W.W.II (excluding North Africa) making participation of this unit at any W.W. II event historically acceptable. We do not aim to glorify war or the Nazi Regime but we do aim to portray the fighting German Waffen SS soldier of W.W. II as accurately as possible. We do this by wearing the most authentic uniforms available and by using many original vehicles and weapons. Vehicles owned by the group consist of a 1947 Czech. Tatra which is under conversion to resemble an Sd Kfz 251 and an original W.W. II Opel Blitz both of which are owned and funded collectively by SBG members. In it's 29 year history the SBG has worked with many prestigious organisations, establishments and TV companies including the BBC, BBC 2, ITV, channel 4, channel 5 and the Discovery and History channels who have also shown programs featuring the SBG. You can find links to these further on down this page and on the events page. Even if the SBG itself hasn't appeared in some TV programs a lot of the groups vehicles and equipment is still loaned out and for example our Opel Blitz was used in ITV's "Island at War" series. We have also provided services and members to schools, colleges and (T.A.) army units (free of charge) around the UK where SBG members are invited along to give talks about the German fighting soldiers of WWII, their uniforms, equipment, weapons and combat tactics.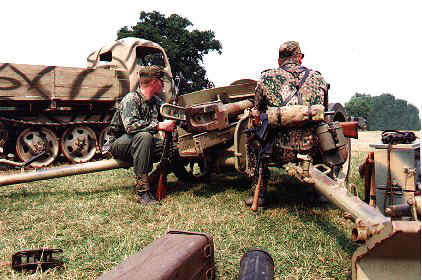 Other vehicles owned by members include two Steyr 1500', A W.W.II German made Ford V3000s three ton truck, Hansa Lloyd truck, an original Schwimmwagen, a Kübelwagen, two replica Kübelwagens, a replica SdKfz 222 armoured car, various Zündapp and BMW motorcycle combinations and a replica PzKpfw. Mk III. We also have an original Flak 38 (used in saving private ryan) and two further Flak 38's under restoration, a PaK 40 and finally a PaK 35/36. Vehicles owned by associated members or friends of the SBG consist of an original Hetzer SPG, A Demag personnel carrier, Steyr, Schwimmwagen, Various Kübelwagens, Kettenkrads and a rare Raupenschlepper Ost and replica Stug. III. Heavy weapons consist of a 105mm Howitzer, 150mm Howitzer, Pak 40, Pak 38 and two Pak 35/36 anti tank guns. These vehicles and weapons are often used by the SBG at public shows and are frequently used for filming purposes. However, the owners sometimes let us use them for private battle re-enactments.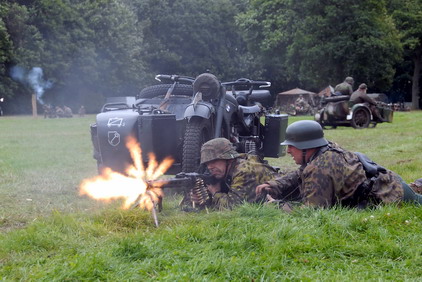 Events are usually held monthly and consist of Public and Private Battle Re-enactment's where famous campaigns such as the Ardennes 1944 or Normandy '44 are reconstructed. Other events consist of photo sessions, filming weekends, Battlefield tours and excavations, "Live" firing days, Regimental dinners and training days where the SBG is taught correct W.W.II German combat, marching and rifle drill. At least two training days or weekends are held every year, one combat and one parade. During combat training days members are taught how to act in combat proficiently and as part of a team (i.e. MG42 crew or Half track section). On parade training days members are taught how to wear their uniforms and equipment correctly as well as simple marching and rifle techniques. These training days are essential as when the group takes part in re-enactments or in film work etc. the membership can confidently march into "Battle" and conduct themselves properly and safely. Weapons handling and storage is essential and members are taught how to use, carry and store weapons in a safe manner, not only to be safe to other re-enactors and the public, but to themselves also. Anyone can put on a uniform and pull a trigger but to act in a professional and safe way is paramount in the SBG. However, it's never forgotten that re-enactment is a hobby and should be enjoyed as a pastime. Although we take re-enactment very seriously we also ensure that the membership enjoys itself.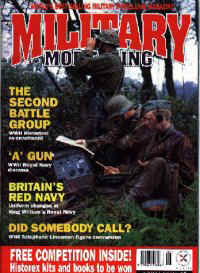 A newsletter is issued monthly giving details of past and forthcoming events, members experiences during battle field tours and expeditions as well as related articles about military modelling, weapons, vehicles and personalities etc. The SBG has appeared in many prestigious magazines such as Military Modelling, Military Hobbies, Militaria Collector, Military in Scale, Gun Mart and various newspapers and magazines across the UK. We have also produced our own book which is entitled "War machines", appeared on T.V. throughout the world on the "Discovery" and "History" channels as well as the BBC where we were filmed in London for the distinguished historian Dan Cruikshank's "Invasion" series. We have worked with and appeared on ITV (Adolf and Ava, Hitler and Bormann), BBC 2's "S.O.E." 4 part series, channel 4 and channel 5's "Hitler's Britain" and "The Brit's who fought for Hitler". We also feature in Steven Spielbergs W.W. II movie "saving private ryan" staring Tom Hanks, Matt Damon, Ed Burns and Tom Sizemore and more recently "FURY" starring Brad Pitt. "After The Battle" magazine have produced giant full colour posters of the SBG on various W.W. II German vehicles (including our Half track) which are on sale World Wide and we have also appeared on The Tank Museum Bovington information leaflet. We have also worked with prestigious organisations such as the British Ex-P.O.W Association and the British 7th Armoured Division (Thetford Forest Memorial) Asscociation. We attend many significant W.W.II military vehicle shows including the annual "War & Peace show" at the Whitbread Hop Farm, Beltring, Kent and the "Military Odyssey" show held yearly in Detling, Kent where the SBG usually displays many German W.W. II vehicles and heavy weaponry making it the most impressive WWII displays of these shows. For further information about the SBG or becoming a member E-mail us at this address admin@secondbattlegroup.co.uk
The SBG is acutely aware of its controversial portrayal in this hobby and is a totally non political organization.
People with para military, ideological or extreme views will NOT be accepted as members.