Vehicles & Weapons of the SBG
More information will be made available on these vehicles in due course.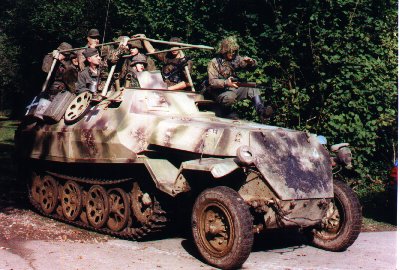 Vehicles owned by the group consist of a 1947 Czech Tatra which is under conversion to resemble an Sd Kfz 251 and is owned and funded collectively by SBG members. Also owned by the SBG is an original Opal Blitz 3 Ton truck which is under restoration and almost complete. We also own a 1939 Opal Olympia staff car and an original 20mm flak gun that was, like our Tatra, used in the film "saving private ryan". Other vehicles owned by members of the SBG consist of a Mercedes Radio Truck, German made Ford 3 Ton truck, a Kubelwagen and various Zündapp and BMW motorcycle combinations. The SBG can also call upon associated SBG members to use other vehicles such as Schwimmwagens, Kettenkrads and an Raupenschlepper Ost. Heavy weapons consist of a 105mm Howitzer, Pak 40,Pak 38 and two Pak 35/36 anti tank guns.
The SBG's battle worn Tatra 1999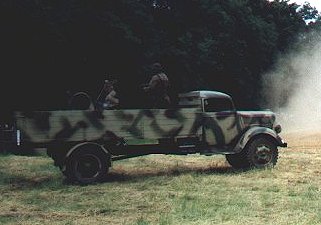 The SBG's 1941 Three Ton Opel Blitz truck at the War & Peace show 2000.
Click here to see the SBG Opel Blitz restoration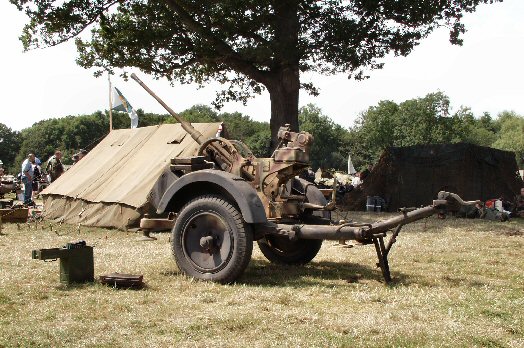 Flak 38
The SBG's Flak 38 20mm AA gun. This gun has now been fully overhauled and restored. It was used in the film "saving private ryan" as a static prop and is not the one that's seen firing in the movie.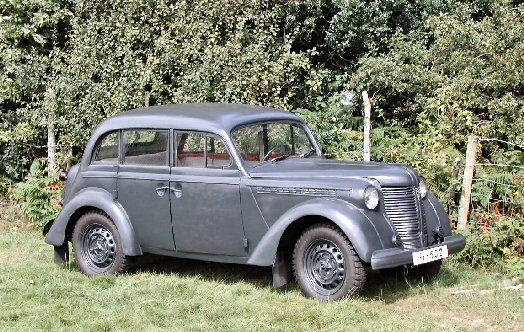 1938 Opel Olympia
This vehicle was acquired by the SBG in 2001 and was sold as an original 1938 Opel Olympia military staff car. It (apparently) has civilian bumpers/fenders as it had one owner after the war who used the vehicle to run around in. The owner died and it stayed in his garage until his elderly wife decided to sell it before moving into smaller premises. The vehicle needed little restoration and does run however the engine block still needs a small amount of work doing to it before it can be used normally. We've been told that it's a rare version as it has 4 doors and most of these vehicles only had two front doors with fold forward front seats.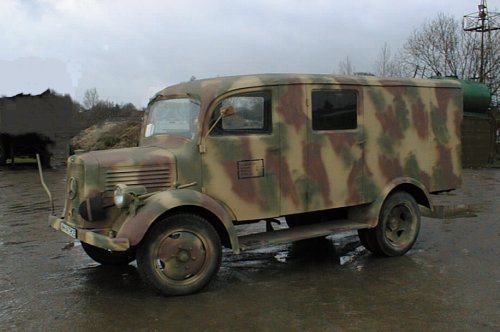 Mercedes 1500 L 1.5 Ton Radio Truck
This vehicle is owned by Rttf. Rossler. It is a 1943 Mercedes Benz 1.5 ton Radio truck believed to originally have come from the Luftwaffe.
Click here for information on the Mercedes 1500 L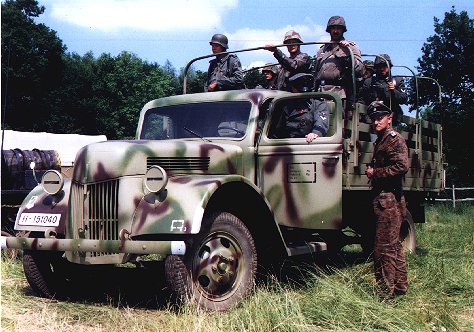 This W.W.II German made Ford Three ton truck was owned by SBG member Uscha. Ihssen and was Purchased in the late summer of 1998. The truck is now fully restored and made it's first appearance at the War & Peace show 2000. The truck was sold in 2003 to members of the SBGs Spanish contingent who regularly use it in their re-enactments.
Click here for information on the German Ford.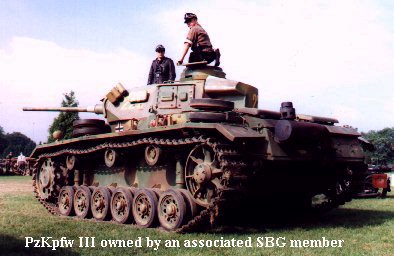 Pz Kpfw MkIII Ausf.M
This rare version of the famous Mk III is owned by an associate member of the SBG and is shown here on the groups display at Beltring 1997.We have the regular use of the vehicles throughout this site for public displays, film work and photo sessions etc. This particular Mk III won first prize at the '97 "War & Peace show" for best Axis vehicle. Some of the vehicles are even used in our private battle re-enactments.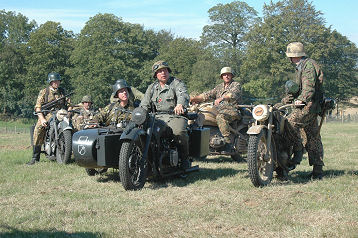 Motor Cycles and Combinations
There's a vast array of different motor cycles and combinations within the SBG which are all original including 5 Zundapp combinations, 1 BMW combination and a number of solo motorcycles. A separate page on these vehicles will be made available shortly.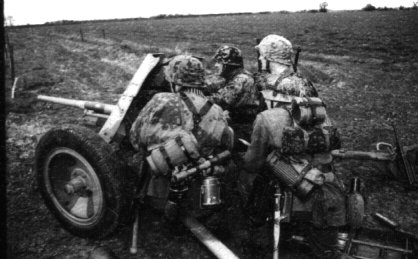 Pak 35/36 in action
This photo shows one of three Pak 35/36 in regular use by the SBG. These weapons are of course legally deactivated but are used to fire blank charges. In this particular photo the SBG was practicing using the weapon in the correct fashion. Note the early plane tree camouflage being worn and the full complement of equipment carried by the Grenadier on the right which includes an "A" frame used to carry the mess tin, zeltbahn and a "personal effects" bag.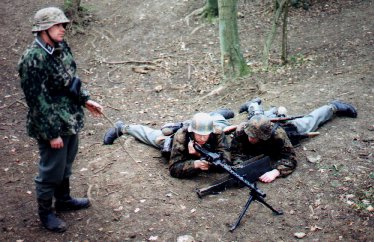 MG 34 in action!
The main weapon of the SBG is the K.98k bolt action rifle but other weapons include (blank firing) MP40 machine pistoles, MG 34s and MG 42s.All weapons are legally held on Fire Arms certificates or by Fire arms dealers who bring the weapons along to our events. Other weapons include pistols such as the Walther PPK,P.38 and Luger P0.8.In this photo Stscha. Siegel is demonstrating the correct firing position for the MG 34. Note the position of the left hand (which could also be held above the butt) and the legs spread open wide with feet kept flat (and often "dug in").
Email the SBG... sbg-1@hotmail.com