Uniforms & Equipment
of the Second Battle Group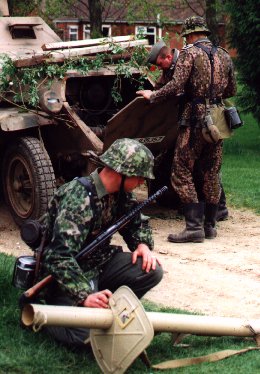 The SBG wear only the most authentic uniforms available to Re-enactors. Field Grey Parade uniforms are very high quality (group made) exact reproductions and combat uniforms are similar but or constructed from wartime dated Swedish uniforms and material. Reproduction camouflage is of the best quality available world wide and made from patterns taken from original Waffen SS garments. Patterns include Oakleaf A & B, Plane Tree Nr.4,Palm Tree (Forrest) and '44 Dot pattern (when portraying other W-SS units). Insignia is also of the highest quality available. Most of the equipment worn by SBG members consists of original items such as Mauser pouches, Bread Bags, Water Bottles, Mess Tins, Bayonets and Frogs, Entrenching Tools and Covers, Y Straps and either M36 or M43 helmets. You do not have to be a member of the SBG to obtain camouflage, uniforms, insignia or equipment as listed above. However, discounts are given to SBG members.

Arnhem '44 Reconstruction.
The standing Grenadier wears
'44 Dot camo pattern of which
has a "Salmon colour" backing.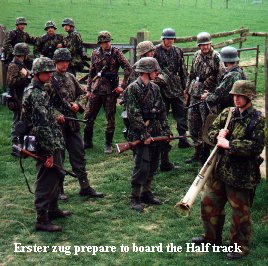 A varied selection of camouflage is shown on the left. Patterns include plane tree (oakleaf overprint) in light and dark green colours,'44 DOT pattern in dark brown and salmon colours and finally oakleaf. Plane tree overprint was issued to the Waffen- SS (then called the SS -VT) c.1938 with oakleaf being issued c.1940.In c.1942 a new pattern was issued to effect the camouflage of the Russian marshes and was called either "Palm tree & clumps" or more commonly " Forest ". Soon after this yet another pattern was issued and this was called "Burred edge" (sometimes referred to as "Blurred edge"). The Grenadier on the right of the photo wears Italian pattern camouflage issued to the Waffen- SS in 1944.In 1943 experiments were made using Herringbone fabric and two piece suits were made in tunic/trousers styles initially in autumn colour oakleaf. The experiment proved so successful that the suits were mass produced with a new pattern of camouflage commonly called '44 DOT (also referred to as Peas Pattern). These were issued in 1944 with a salmon or brown colour backing. The LSSAH were never issued with or wore '44 Dot uniforms and only wear them when portraying other W-SS units.
Field Grey Uniforms & Equipment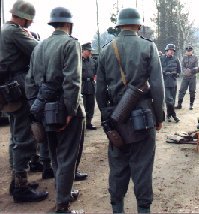 The photograph on the right shows members of the SBG during a training day. Here you can see the gasmask canister, water bottle, bread bag and mess tin carried by Grenadiers. Training days are held approximately twice a year where members are taught correct W.W.II marching and rifle drill, how to wear the uniform correctly and what "personal" items are to be carried. These training days are part of the SBGs activities and during public shows in particular correct and practiced marching is what separates the SBG members from other societies.

The photo on the left shows a Grenadier wearing an M36 field grey tunic. This tunic has pleated top pockets, a dark green collar and "bagged out" pleated bottom pockets. Clearly visible is the national emblem worn on the upper left sleeve, the cuff title worn 15 cms above the cuff. He is wearing short boots and gaiters and an M43 cap of which the side flaps could be unbuttoned and pulled down over the ears and around the neck for protection against the cold.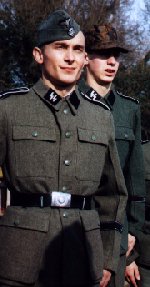 The most common tunic worn by the SBG is the M43 tunic which has a much simplified field grey collar and four "Patch pockets". The Grenadier in the foreground in the right hand photo wears an M40 "Side" cap whilst the Grenadier behind him wears an oakleaf camouflage cap. Most of the SBG's combat uniforms are constructed from wartime dated Swedish uniforms or material (Swedish capes) and if necessary dyed to the correct colour.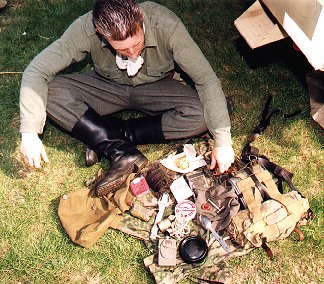 Personal Kit.
In this photo Uscha. Speidel displays the contents of the bread bag. Items include a chocolate tin, shaving kit, esbit cooker, sewing kit, knife, fork & spoon set, gloves, a butter/fat dish, spare bandage, rifle cleaning kit , bread wrapped in brown grease proof paper, torch, cigarettes and foot cream. Some of these items are carried in the personal effects bag attached to the "A" frame. Grenadiers also carry a correctly filled out pay book and bandage in their tunic pockets and wear a correctly stamped Dog Tag.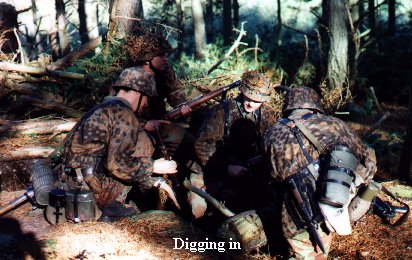 In Combat
Members of the SBG making camp during a break in the fighting. With the exception of the "A" frame and zeltbahn each Grenadier carries a full complement of kit. The Grenadier on the right carries a gas cape bag strapped to his gas mask canister. Of note is the "Italian" camouflage trousers being worn. The Grenadier in the background keeps lookout whilst his comrades dig in.
For further details about becoming a member of the SBG or obtaining uniforms and camouflage E-Mail the SBG at this address admin@secondbattlegroup.co.uk